Topology + timber



Timber construction is receiving renewed interest in the building industry. It is at an inflection point–widespread implementation, building code revisions, and innovations in fabrication are on the near horizon–and the developments of timber construction in the next decade will have an outsized impact on our built environment for years to come. As a renewable plant-based material, wood captures carbon emissions that effectively reduce overall embodied carbon in new constructions and ultimately translates to reductions in global warming. This thesis section, a Skidmore Owings & Merrill (SOM) sponsored studio, focused on timber construction, with the aim of developing a built pavilion as part of the Chicago Architecture Biennial in 2021. The public programming for the pavilion has a social and educational mission, it is an outdoor classroom for our community partner, a southside Chicago Public School, Ray Elementary.

The work of the research and design is directed in how innovative timber fabrication and construction can have scalable impacts on the built environment. Over the course of the year, students have developed various methodologies to work through different phases of design and prototyping, testing design options based on fabrication and material constraints. The fall semester focused on exercises and computational design workshops to hone the foundational skills necessary to conduct work in the design studio in the winter term. Students work collaboratively in teams given the nature of the studio and are in-person for access to the tools from the FabLab for prototyping. This thesis course is linked with Prof. Wes McGee's Advanced Robotics Seminar in the winter term. SOM engages with this thesis group throughout the year, linking professional practice support/consultation with academia through regular workshops and reviews.

Faculty Advisor:
Tsz Yan Ng
Linked advance fabrication seminar instructor:
Wes McGee
SOM guest instructors and team:
Ryan Culligan
Benton Johnson
Sydney Brown
Rahul Attraya
Kyle Vansice
Megan Mohney
Jonathan Baranowski
Rishabh Moorjani
Simon Beskitt
Students:



Nicholas Di Donato
Huiting Du
Charlotte Fuss
Nicolas Garcia
Jeong Su Han
Yuhao Huang
Hannah Kirkpatrick
Ho Kyung Lee
Meghan Owens
Hana Saifullah
Xingyue Sun
Kaylee Tucker



1

Beginning with the fall semester seminar, the Topology+ Timber studio approached the timber pavilion through a series of exercises, both in research and prototyping. The first half of the seminar was dedicated to discovering how to use timber. We investigated joinery methods, structural systems, and timber as a material. We also looked at case studies of timber pavilions, especially those that used computational methodologies for design and digital fabrication for construction.

We discovered that there was a range of timber design techniques and fabrication methods. While we had seen examples of some of these intersections, there were some areas where we knew we could innovate new applications of methods. Taking these studies into account, we designed and prototyped timber chairs. These chairs used a range of techniques, including innovative joinery methods, kerf bending, bending through material properties, and adaptable structures.

After these investigations into timber properties, systems, and fabrication methods, we began considering the programmatic and spatial qualities that the pavilion would require. We considered general design requirements for classrooms—both indoor and outdoor—as well as the history of freedom schools, learning and educational models, and architectural precedents. This background knowledge led us to develop a workshop to engage with students, parents, and teachers at Ray Elementary and jump-started quick design studies at the end of the seminar.

Throughout the seminar, we learned and taught each other about timber and about education, pushing the work from both the fabrication and the conceptual sides. Approaching the work collaboratively, we gathered the tools we would use in the studio in the winter.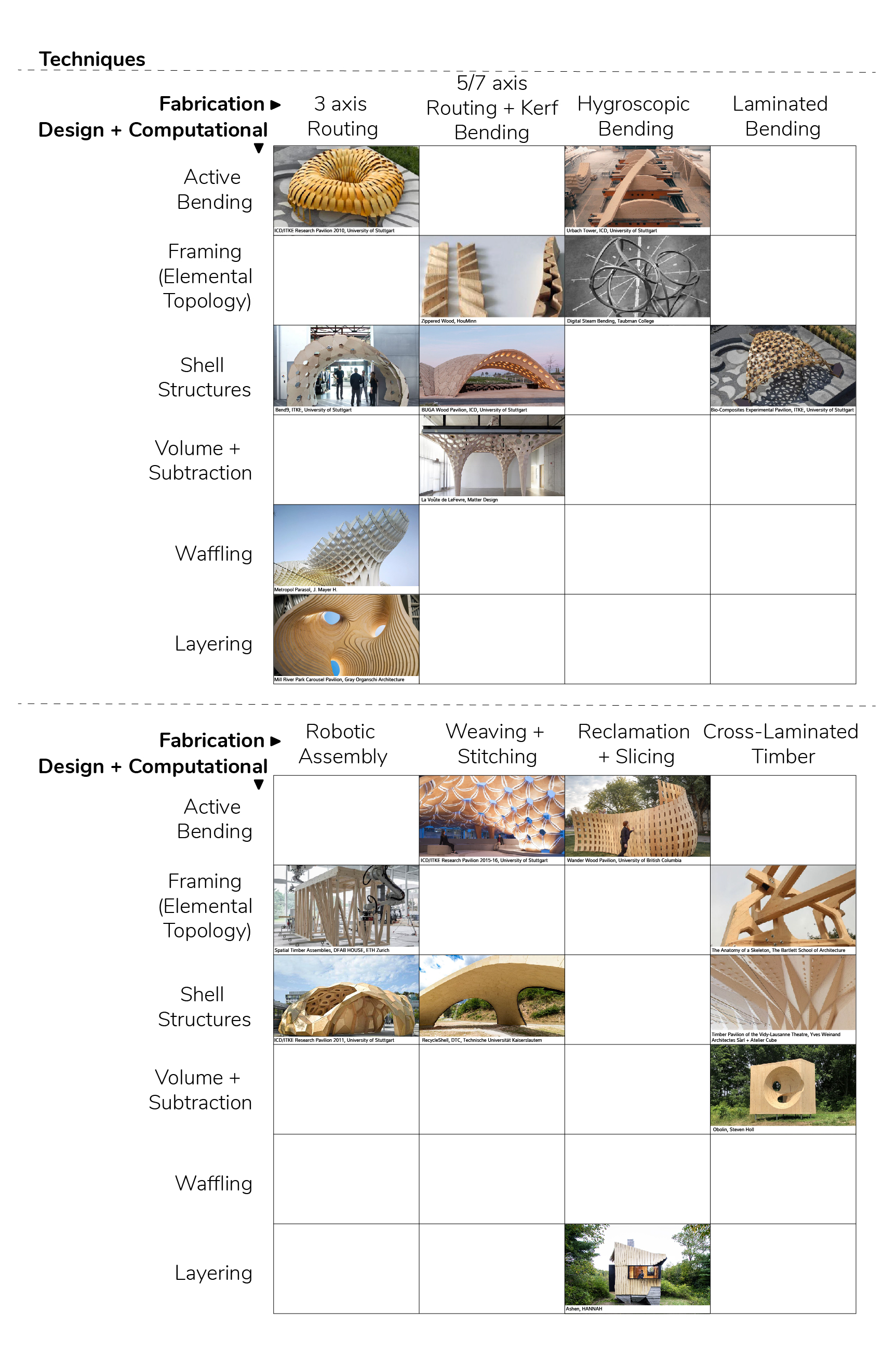 3

The Village of Hyde Park became a part of Chicago as the city kept growing during the late 1880s. With the growing population in the area, the Chicago Board of Education hired architect John J. Flanders to build Hyde Park High School in 1894. However, this school building was soon not big enough to hold the growing number of students, and they decided to move out. In 1914, Ray Elementary School, which had opened at 57th Street and Kenwood Avenue, moved into the building.

Today, Ray Elementary School has students from pre-kindergarten to 8th grade from its community and pursues a mission to provide a rich academic experience for a culturally, racially, and socio-economically diverse student body. The demographic survey of students at Ray Elementary School shows 67% African American students, 16% Caucasian students, 8% Hispanic students, 4% Asian students, and others. More than 50% of students are coming from low-income families. However, the demographic in the Hyde Park neighborhood consists of 48% Caucasian residents, 26% African American residents, 13% Asian residents, and 8% Hispanic residents. Also, the median household income in this area is slightly higher than the national income. This difference between school and neighborhood demographics may be explained because of its proximity to a large, private university, the University of Chicago.

The core curriculum is narrowed down to four programs: fine and performing arts, the international baccalaureate middle years programme, technology, and world language. The Magnet Cluster initiative, a Chicago Public School (CPS) initiative, promotes the improvement of the quality of education, and the dedication of schools to their neighbors among the schools in Chicago. Also, the school works closely with surrounding communities for extracurricular activities to provide students with a variety of education. For instance, students from the University of Chicago in different majors run art classes, creative writing classes, and other workshops. Also, they are part of the Chicago Children's Choir and Kenwood ballet school provides dance classes.

4

Based on our preliminary study on timber design from the fall seminar, including fabrication, prototypes and precedents, we became interested in reciprocal frames. These structures are entirely self-supporting--each member rests on an adjacent one. This system is particularly interesting because of the close interaction between the joints and the overall system. Another reason why this system is interesting to us is because we can push the idea of dimensional lumber beyond what is traditionally imagined for the material. Though we're using a fairly common material, we're leveraging it to work in new ways with technologies and fabrication techniques like the 5-axis router.

Because the reciprocal frame is a system made up of small components, it can be continuously extended to a large span. These small components also allow us to create the system in the FabLab. Due to fabrication tool limitations, the size of the pavilion's components will be controlled to be within a certain range for easy operation. In addition, the form of the unit system in the reciprocal frame is not a single pattern, there are many combinations. Through studies and prototypes, we have discovered the potential to create a pattern of innovative load-bearing units for our pavilion. Through studies and prototypes looking specifically at reciprocal frames, we've discovered new ways of interconnecting patterns, creating joints, and self-supporting members in this system.